THE AQUILA POLONICA PRIZE
2015




The biennial Aquila Polonica Prize is awarded under the auspices of the Polish Studies Association, which appoints an independent committee of judges, to the author of the best article written in English during the previous two years on any aspect of Polish studies. Download the press release here...

The award carries a $500 honorarium donated by Aquila Polonica Publishing, and is announced during the Polish Studies Association annual meeting at the National Convention of the Association for Slavic, Eurasian, and East European Studies ("ASEEES").
PSA president Brian Porter-Szucs announcing the winnersThere were so many excellent entries in the competition for the 2015 Aquila Polonica Prize that three winners were chosen by the committee of judges. There were more than 150 submissions for the prize this year—a greater number than any previous year. The winners were announced on Friday, November 20, 2015 by Polish Studies Association president Professor Brian Porter-Szucs at the PSA annual meeting, held in conjunction with the ASEEES Convention in Philadelphia, Pennsylvania.

Aquila Polonica president Terry Tegnazian, who was on hand to congratulate the winners, said: "It is our very great pleasure to honor these three winners for their outstanding work on three wide-ranging topics."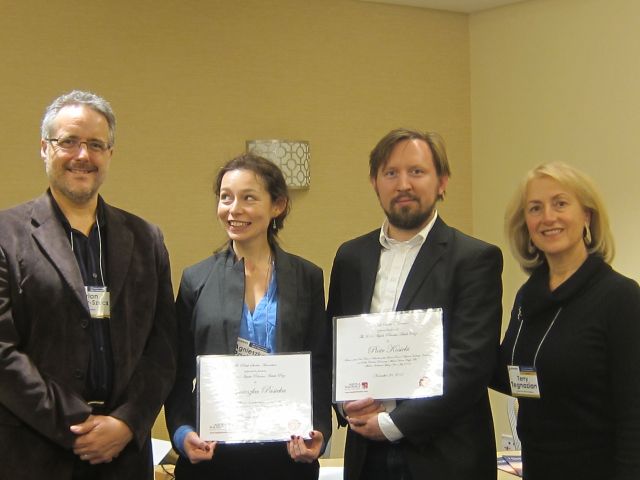 L-R: PSA president Brian Porter-Szucs, Agnieszka Pasieka, Piotr Kosicki, Aquila Polonica president Terry Tegnazian (The third winner, Lisa Jakelski, was not present to accept her award)

2015 Winners
About the Winning Articles:
Piotr Kosicki, "Masters in their Own Home or Defenders of the Human Person? Wojciech Korfanty, Antisemitism, and Polish Christian Democracy's Illiberal Human Rights Talk." Modern Intellectual History (June/July 2015). Download Kosicki's article here.
Kosicki's article clearly demonstrates that the author is a master in the discipline of history and a defender of a publicly engaged scholarly work. Piotr's carefully researched, beautifully written and extremely gripping article explores the historical trajectory of the discourse of the Polish Catholic right and its contemporary implications. In so doing, it situates a fascinating Polish case in a broader context, tracing connections between the Polish Christian ideology and political and philosophical movements in other European countries, shading a new light on the ideological underpinnings of Polish antisemitism, and questioning some widespread assumptions regarding the role of Catholic politicians and intellectuals in prewar and postwar Poland. Strongly grounded in history, it forces the reader to reflect on contemporary Polish scene. And it simply does what an exemplary article on Poland should do: going beyond the narrative of Polish "specificity," it shows that a specific Polish case study helps us understand more general and widespread phenomena.
Lisa Jakelski, "Pushing Boundaries: Mobility at the Warsaw Autumn International Festival of Contemporary Music," East European Politics and Societies 29, 1 (2015): 189-211. Download Jakelski's article here.
The committee was very impressed with Jakelski's well-written, historiographically significant, and analytically sophisticated article on an original topic—the Warsaw Autumn International Festival of Contemporary Music. Jakelski sought out and analyzed original archival sources in order to present a highly nuanced argument about Cold War mobility, the nature of borders, and the complex set of relations—both within the Soviet Bloc and between Poland and "the West"—during the globalized 1960s. Particularly important is Jakelski's dual focus on how cross-border connections could be both "top-down"—i.e., orchestrated by those working in an official capacity for the state—and "bottom-up"—i.e., consisting of the informal networks of people who circulated ideas about modernist music. Overall, Jakelski shows us that studying music does not simply provide a way to talk about the breaking down or the erecting of borders during the Cold War, tropes that can often be polemical and over-simplistic. Rather, this nuanced study of the constantly changing reconfigurations of metaphorical and literal borders makes her work relevant to those working beyond the field of Polish Studies. At the same time, however, Poland—a country that, she argues, was of particular significance "in cementing cultural ties between Eastern and Western Europe"—remains the central point of analysis.
Agnieszka Pasieka, "Neighbors: About the Multiculturalization of the Polish Past." East European Politics and Societies, 28 (Feb 2014): 225-251. Download Pasieka's article here.
Pasieka challenges our understanding of a trope that most people caught up in the debates over Jan Gross's work took completely for granted: neighbors and neighborliness. She draws on critical literature far beyond Poland to show that the paradigm of neighborliness as harmonious ethnic coexistence hinges on an idealized multicultural past. Pasieka uses her own fieldwork conducted in Southern Poland to present the Polish-Lemko relationship as a foil to get us past the binarism of Polish-Jewish identity issues. In her close analysis of narratives of conflict such as the Jedwabne debates, she finds contradictory patterns of neighborliness that can accommodate both the embrace of the other as "family" and the preservation of intergroup boundaries between "us" and "them." There is a danger in romanticizing the neighborhood as a unit of measure, Pasieka argues, and her article successfully compels us to think through these difficult issues on a different scale.
About the Winners:
Piotr Kosicki, Assistant Professor, Department of History, University of Maryland, received his Ph.D. in History from Princeton University, and has won Fulbright, Chateaubriand, ACLS/Mellon New Faculty and Hoover National Fellowships, as well as multiple Title VIII grants from the Woodrow Wilson International Center for Scholars and research grants from the German Historical Institute in Warsaw. He serves on the Advisory Board of H-CATHOLIC, the Board of the Polish Studies Association, and the Scientific Advisory Committee of the Konrad-Adenauer-Stiftung's CIVITAS Project.
Lisa Jakelski, Assistant Professor of Musicology, Eastman School of Music, University of Rochester received her Ph.D in music history and literature from the University of California, Berkeley, after completing an A.B. in music and English at the University of Georgia. Her areas of specialization include Polish composition and Cold War cultural politics. Jakelski's work has appeared in the Journal of Musicology and twentieth-century music, and she has presented papers at conferences throughout North America and Europe, including the annual meeting of the American Musicological Society and the International Conference on Music Since 1900. She has received numerous honors and awards for her work, including a fellowship in 2007–2008 at the Doreen B. Townsend Center for the Humanities.
Agnieszka Pasieka is currently a postdoc at the Institute of Slavic Studies, Polish Academy of Sciences. She holds a Ph.D. in Social Anthropology from the Martin Luther University, Halle, Germany. She was a fellow at the Max Planck Institute for Social Anthropology, Halle and Bronisław Geremek Junior Fellow at the IWM.
DOWNLOAD THE PRESS RELEASE HERE...