The Mermaid and the Messerschmitt:
War Through a Woman's Eyes, 1939-1940
By Rulka Langer
Winner of the 2010 Benjamin Franklin
Silver Award for Best First Book (Nonfiction)
During the opening months of World War II, Vassar-educated career woman Rulka Langer (1906-1993) risked her life and relied on her wits to keep her two small children and elderly mother out of harm's way.
The Mermaid and the Messerschmitt is a rare eyewitness account of the early, chaotic days of World War II—the Nazi invasion of Poland on September 1, 1939, the Siege of Warsaw and the first few months of the Nazi occupation—written by a young working mother.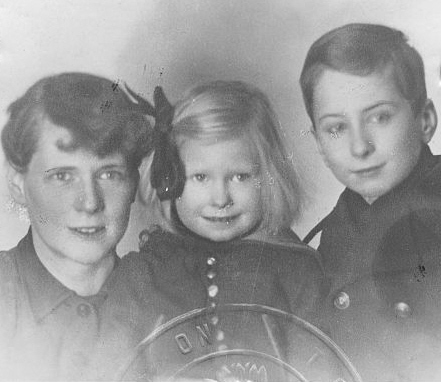 Rulka Langer with her children Ania (age 3) and George (age 8), circa Feb. 1940Langer's engaging, clear-eyed chronicle sparkles with fresh and lively storytelling and a brilliant eye for detail.
Weaving her story with a masterful use of humor, an occasional bite of sarcasm and a large dose of honesty, Langer paints a vivid picture of this virtually unknown aspect of World War II—and at the same time illuminates universal truths about average, ordinary people faced with war.
A Selection of the BOOK-OF-THE-MONTH CLUB®, the HISTORY BOOK CLUB®, and the MILITARY BOOK CLUB®
DETAILS:
- Hardcover: ISBN 978-1-60772-000-3 ($29.95)
- Trade Paperback: ISBN 978-1-60772-001-0 ($19.95)
- Ebook: ISBN 978-1-60772-018-8 (all major formats)
- Audiobook: available from Audible.com
- Language: English
- Pages: 468
- Size: 6" x 9"
- This new edition adds more than 100 black & white photos, maps and illustrations (some never before published), historical info to set this account in context, an Afterword from the author, an Epilogue from the author's son, and other supplemental material not included in original.
- Reading Group Guide included in paperback and available online
- Publisher: Aquila Polonica Publishing
Read what they're saying about The Mermaid and the Messerschmitt