SCHEDULE AN EVENT
There are several pre-designed presentations available centered on our titles, authors, and/or mission, which can also be further tailored to the needs of your organization or venue. Click here for our current list of available programs.
We would be happy to work with you to design an event that meets your needs, or to schedule one of our current list of presentations event or appearance. We would also be happy to provide you with bookmarks, postcards or other material to help with your event.
If you would like to schedule an event or other appearance by Aquila Polonica for your organization or venue, please email info(at)aquilapolonica.com or call 310-470-0770.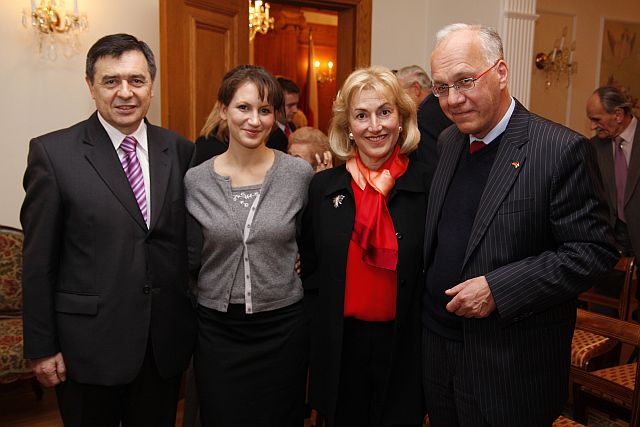 From the left: Polish Ambassador to Canada, Zenon Kosiniak-Kamysz; Yaelle Wittes; Aquila Polonica publisher Terry Tegnazian; German Ambassador to Canada, Georg Witschel, at the April 2010 event hosted by the Polish Embassy in Canada, titled "War Through a Woman's Eyes, 1939-1940" based on "The Mermaid and the Messerschmitt."