Captain Witold Pilecki
at
Hillel at UCLA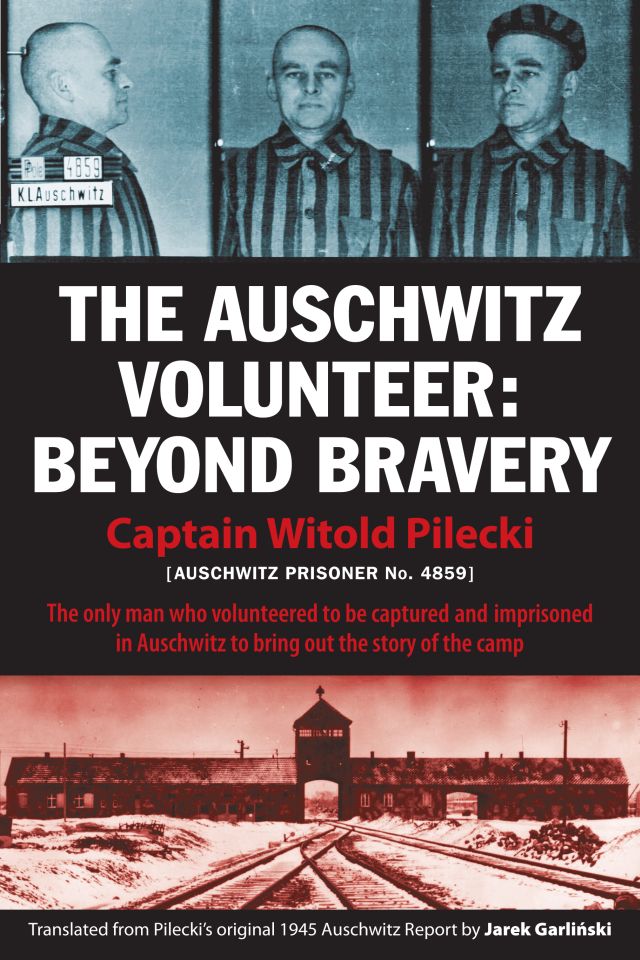 On Sunday afternoon, March 1, 2015, approximately 150 people braved a torrential rainstorm to crowd into Hillel at UCLA to see a multimedia performance by actor/writer/director Marek Probosz and Aquila Polonica president Terry Tegnazian about Captain Witold Pilecki and his secret undercover mission at Auschwitz, based on Aquila Polonica's award-winning book, The Auschwitz Volunteer: Beyond Bravery. The program was introduced by renowned Holocaust expert Dr. Michael Berenbaum of the American Jewish University, and included dramatic readings of from the book by Mr. Probosz, narration by Ms. Tegnazian, plus photos, maps and three short videos.
The program was followed by a wine and hors d'oeuvres reception featuring scrumptious Kosher food. Aquila Polonica titles were also available for sale at the event.
This event was jointly sponsored by generous contributions from the following:
- The Dortort Center for Creativity in the Arts at UCLA Hillel
- Hillel at UCLA
- UCLA Center for Jewish Studies
- Los Angeles Museum of the Holocaust
- Consulate General of the Republic of Poland in Los Angeles
- St. Alban's Episcopal Church
- Aquila Polonica Publishing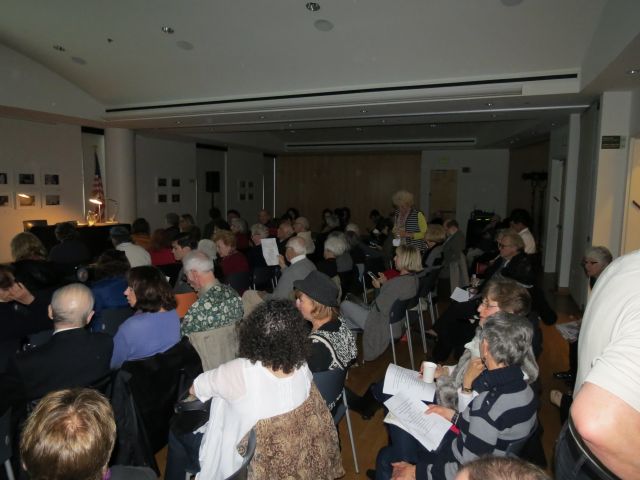 Audience is filtering in for the performance.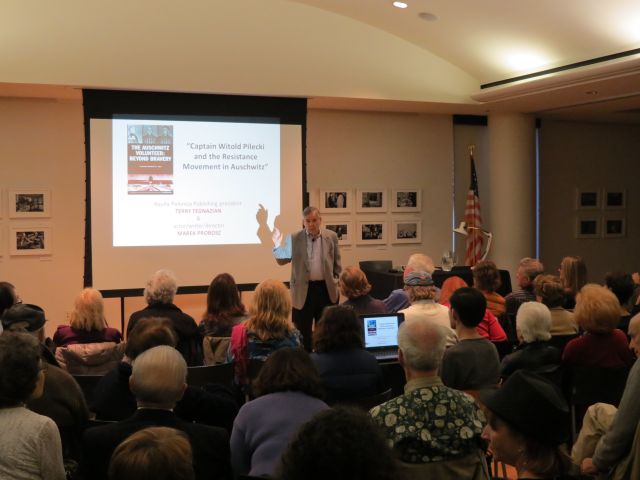 Dr. Berenbaum's introductory remarks help set the program in its historical context.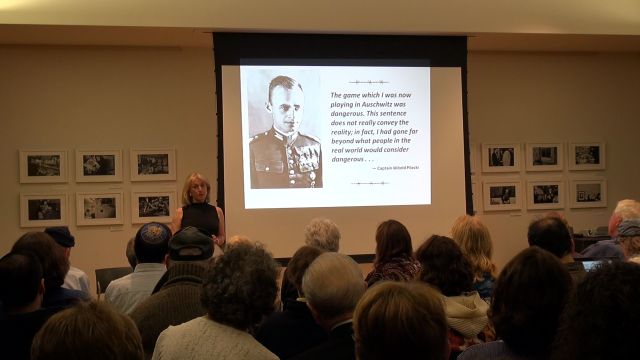 Ms. Tegnazian opens the program.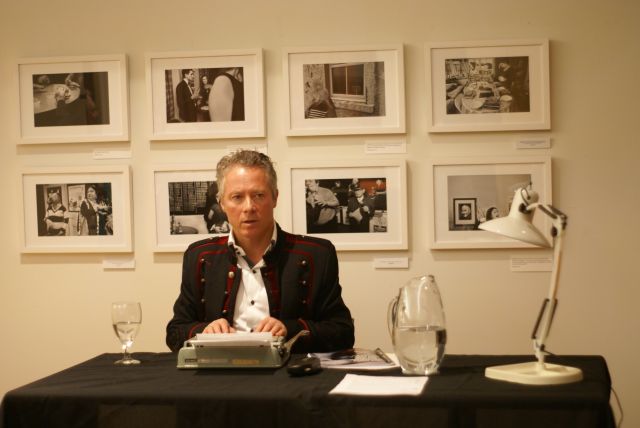 Mr. Probosz in the role of Captain Witold Pilecki begins writing his Auschwitz report.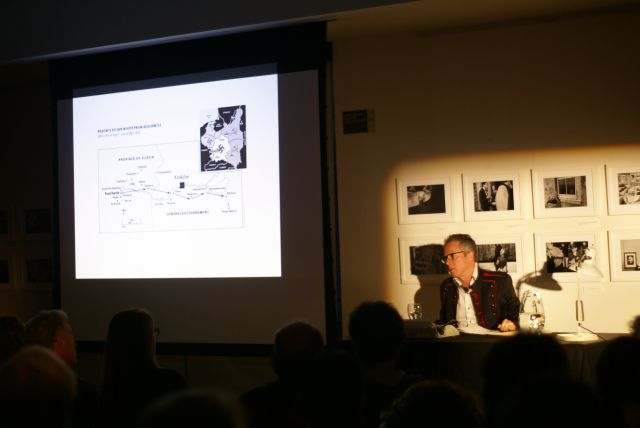 Preparing to escape from Auschwitz.
In his role as Captain Witold Pilecki, Mr. Probosz uses this manual typewriter.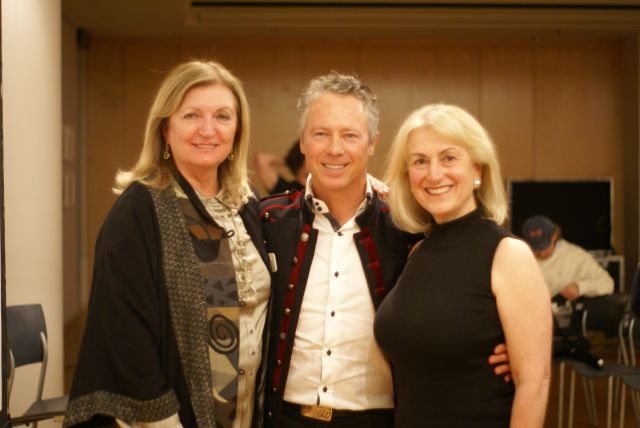 L-R: Perla Karney, Artistic Director of the Dortort Center for Creativity in the Arts at Hillel, Mr. Probosz and Ms. Tegnazian after the performance.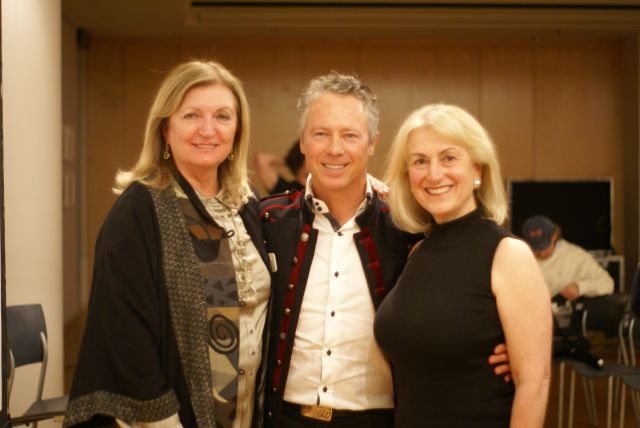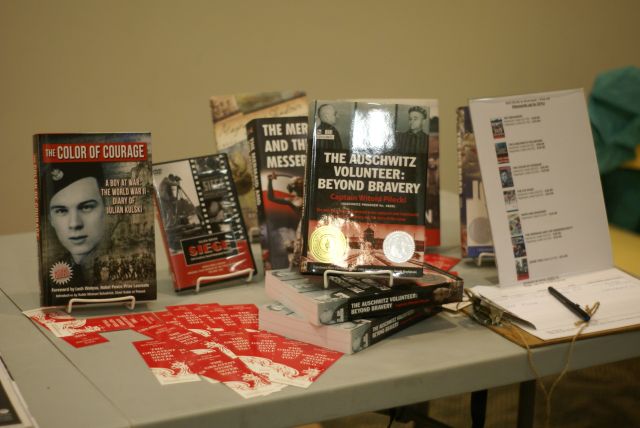 Aquila Polonica titles for sale at the event.