The Mermaid - Author Bio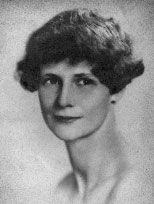 Author RULKA LANGER (1906-1993) came from a family of distinguished Polish intellectuals, writers and statesmen.
After graduating from Vassar College in 1928, she returned to Poland and worked at the J. Walter Thompson advertising agency in Warsaw. In 1930, she married Olgierd Langer, a graduate of the University of Lwow and the Harvard Business School, who is credited as the father of modern advertising in Poland.
A modern "career woman" before that concept was fashionable, after her marriage Mrs. Langer, the mother of two young children, became a political and economic writer in Warsaw, worked for Polish Radio and in the Economic Research Department of the Bank of Poland.
Fleeing Nazi-occupied Poland with her son and daughter, ages 8 and 3, in early 1940, Mrs. Langer joined her husband, who was at that time a member of the Polish diplomatic corps posted in the United States.
Mrs. Langer also specialized in translations from Polish to English, of which the best known is Zofia Kossak's novel, Blessed Are the Meek.