THE ICE ROAD — EXCERPT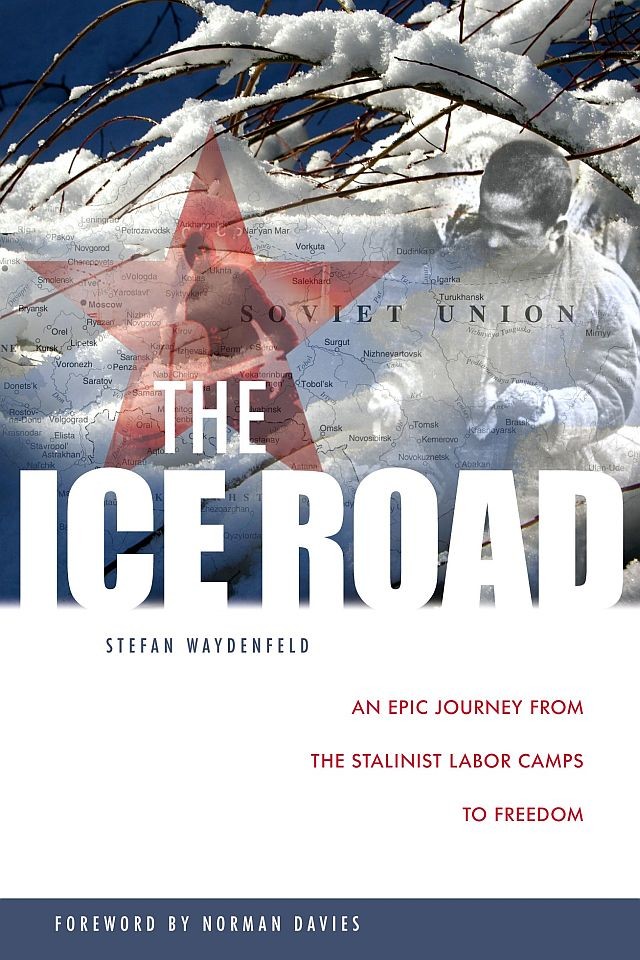 CHAPTER 6
The Sun is on the Wrong Side
…When I woke up again we were on the move, the train shaking like a peasant cart on cobblestones. I leaned on my elbow to look out. The sky was studded with stars. All I could see on the ground was a hedge of bushes and low trees and, beyond it, empty meadows dotted with patches of water, unruffled and shining in the moonlight. No houses, no lights.
Night noises filled the air of the wagon: deep breathing, moans and groans, discordant snores, short, sharp cries of bad dreams, and more 'explosive' sounds.
I must have gone back to sleep, and when I woke up again the rectangle of the sky in my window had changed to greyish-blue, with a pinkish-yellow glow in the direction in which the train was going.
Sunrise. With nostalgia I remembered another sunrise. It was May 1935, I was ten, and, again, I was on a train. I was on a school trip returning from Kraków, where schools from all over the country were helping to erect a memorial burial mound for Marshal Piłsudski, pater patriae, who had died earlier that month. I woke up somewhere near Częstochowa, the city of the Black Madonna. I could see through the window that the bright red disc of the sun was halfway over the horizon. I was riveted to the view until the sun had fully risen and then the drama was lost. Another lifetime, another world.
I could not go back to sleep and lay there with my eyes open. Now everything was so different from that May morning: a cattle wagon, locked doors, hunger and thirst, but at least we were also going home.
The patch of sky above my head was now pale blue and the stars had disappeared. Again I leaned on my elbow, hoping to see the rising disc of the sun, but the hole was too small to lean out.
Suddenly, I was unhappy. Something was wrong. But what? And then it hit me. The sun was on the wrong side. We were going east, not west to Warsaw, but east towards the rising sun. The train veered slightly to the left and I saw the reddish gold disk just over the horizon.
I tried to think straight. There was only one railway line in Pińsk, the Brześć–Gomel line. On the map the line was perfectly straight. It went west to Brześć, Warsaw and then Berlin, or east to Gomel and then Moscow. And we were going east.
Another thought struck me. We were at least two or three hours' travelling time from Pińsk. Had we been going west, we should now be crossing the relatively prosperous areas round Brześć, whereas here the countryside was sparsely populated and desolate. We were probably by now past the old Polish–Soviet border and in Soviet territory proper. I was confused. But I was right: we were going in the direction opposite to that intended.
People were waking up. The man on the shelf opposite, who was also by the window, had also been looking out. He said something to me but I could not hear him over the clatter of the wheels. He smiled and shrugged his shoulders. He has no idea of what's happening, I thought. Is he a fool, or am I? I looked out once more. There was no doubt, we were going east. I looked to my left. My parents were still asleep. I shook Father by the shoulder. He sat up, instantly awake. 'The sun is on the wrong side,' I said in a loud whisper.
Uncomprehendingly, he looked at me. I pointed to the sun in the window. He understood instantly. He leaned over me and thought, his brows tightly knit. 'You are right,' he said. 'I was afraid that this might happen.'
There was no mistake. We had been fed lies. We were on a journey not of our choosing. Destination unknown. And there was nothing we could do about it. Nothing whatsoever.
###
Excerpt from The Ice Road: An Epic Journey from the Stalinist Labor Camps to Freedom, by Stefan Waydenfeld. Copyrights 1999 Stefan Waydenfeld; 2005, 2010 Alice Faintich; 2010 Aquila Polonica Ltd.