The Color of Courage
EDUCATORS' GUIDE
Download The Color of Courage Educators' Guide here (3 MB)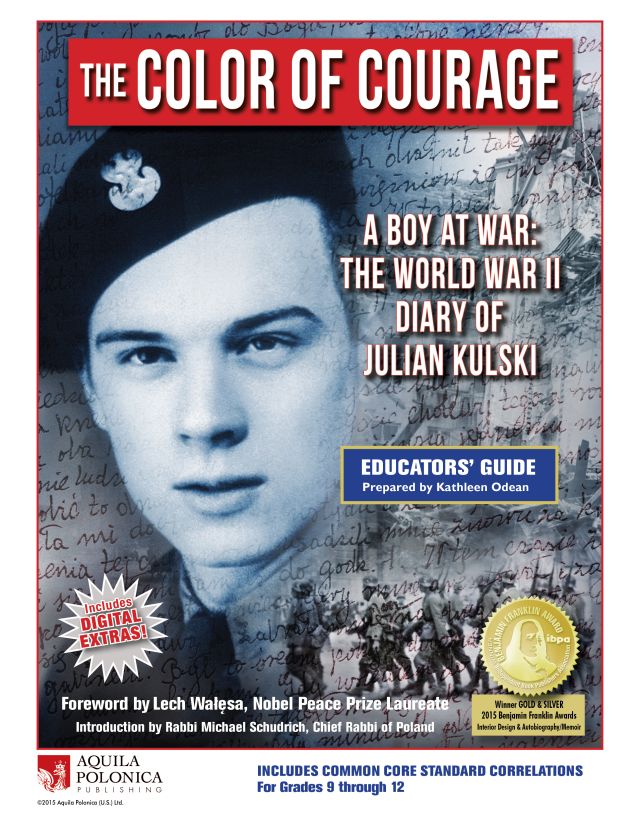 The Color of Courage Educators' Guide includes Common Core Standards correlations for a range of discussion questions and group and individual research, writing and speaking activities. Suitable for grades 9 through 12.
The Educators' Guide was prepared for Aquila Polonica by Kathleen Odean, nationally recognized expert on literature for young people. A librarian for 17 years, Ms. Odean now gives all-day workshops on new books for teens and Common Core Standards. She reviews for Kirkus Reviews, The Providence Journal, and Teacher-Librarian. Ms. Odean chaired the 2002 Newbery Award Committee.
The Educators' Guide includes the following:
Pre-Reading Activities
Discussion Questions (which can be augmented by the Discussion Questions in the book itself)
Vocabulary
Digital Tie-ins (video author interviews, plus the 11 Digital Extras included in the book—short videos of original historical film and audio material)
a unit on Post-Traumatic Stress Disorder
Research Projects
"Dear Mr. Kulski" letter to the author exercise
Further Reading suggestions
a list of the Common Core Standards addressed in this Guide
along with a letter from the publisher, an author bio, brief summary of the book with its Table of Contents, List of Maps and video book trailer.
Download The Color of Courage Educators' Guide here (3 MB)