The Auschwitz Volunteer
Event Videos

Three Extraordinary Things About Pilecki's Report - Yale University Professor Timothy Snyder, in concluding his remarks at the US Holocaust Memorial Museum event honoring Captain Witold Pilecki and The Auschwitz Volunteer: Beyond Bravery, sums up three extraordinary things about Pilecki's report (excerpted from the longer video of the entire event which follows this). For more info on the event...

January 27, 2013 - Washington, D.C. - In commemoration of the 2013 International Holocaust Remembrance Day, the US Holocaust Memorial Museum in cooperation with the Polish Embassy hosted an event about the incredible story of Witold Pilecki, whose report on Auschwitz has been published in English for the first time as The Auschwitz Volunteer: Beyond Bravery. "It was of tremendous importance for us—Polish diplomats—to see Witold Pilecki being commemorated in such a highly symbolic place... More…
Watch a video of the entire program below (approx. 1 hour, 18 minutes) —
"Captain Witold Pilecki and the Resistance in Auschwitz," hosted by the United States Holocaust Memorial Museum, Washington, D.C., January 27, 2013, Dr. Edna Friedberg, Dr. Timothy Snyder, Dr. Piotr Setkiewicz: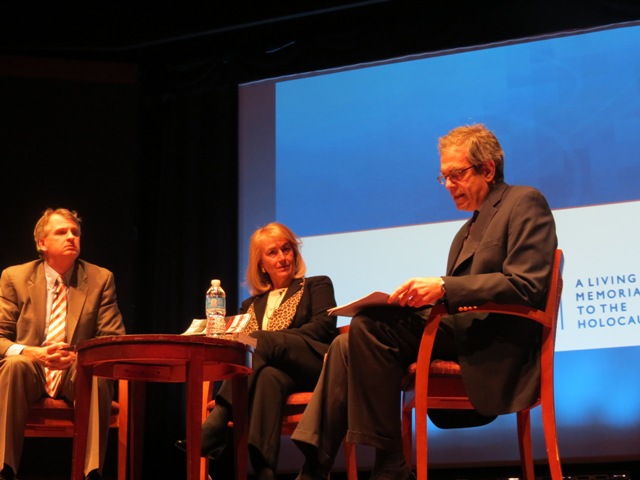 Wednesday, January 9, 2013, 7 p.m. - New York City -The Museum of Jewish Heritagein cooperation with the Polish Cultural Institute of New Yorkpresented "The Auschwitz Volunteer: Historian Timothy Snyder, Yale University, in conversation with Dr. David G. Marwell, Director of the Museum of Jewish Heritage." Aquila Polonica publisher Terry Tegnazian joined Professor Snyder and Dr. Marwell onstage to discuss The Auschwitz Volunteer. More...
Watch a video of the program below (approx. 1 hour, 12 minutes):