THE AUSCHWITZ VOLUNTEER –
ABOUT THE AUTHOR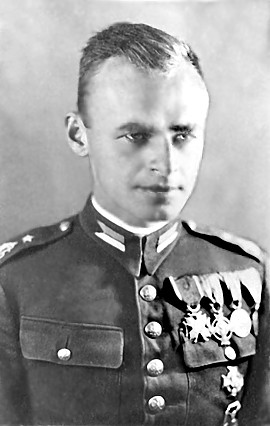 CAPTAIN WITOLD PILECKI (1901–1948), a cavalry officer in the Polish Army, was one of the founders of a resistance organization in German-occupied Poland during World War II that quickly evolved into the Polish Underground Army.
Pilecki is the only man known to have volunteered to get himself arrested and sent to Auschwitz as a prisoner. His secret undercover mission for the Polish Underground: smuggle out intelligence about this new German concentration camp, and build a resistance organization among the inmates with the ultimate goal of liberating the camp.
Barely surviving nearly three years of starvation, disease and brutality, Pilecki accomplished his mission before escaping in April 1943. Soon after his escape, Pilecki wrote two relatively brief reports for his Polish Army superiors about his time in Auschwitz. In 1945 he wrote his most comprehensive report of more than one hundred single-spaced typed foolscap pages—it is this last, most comprehensive, report which Aquila Polonica is publishing in English for the first time.
Pilecki continued his work in the High Command of the Polish Underground Army, fought in the Warsaw Uprising (August–October 1944), was taken prisoner by the Germans, and ended the war in a German POW camp.
In late 1945, Pilecki, who was married and the father of two children, volunteered to return undercover to Poland where conditions were chaotic at war's end as the communists were asserting control. His mission this time: liaise with anti-communist resistance organizations and report back on conditions within the country.
He was captured by the postwar Polish communist regime, tortured and executed in 1948 as a traitor and a "Western spy." Pilecki's name was erased from Polish history until the collapse of communism in 1989.
Pilecki was fully exonerated posthumously in the 1990s. Today he is regarded as one of Poland's heroes.