Dedication of the 1944 Warsaw Uprising Mural
Greenpoint, Brooklyn — August 2, 2015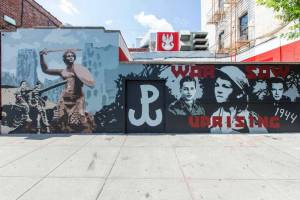 A mural commemorating the 1944 Warasaw Uprising was dedicated on Sunday afternoon, August 2, 2015. The mural is installed on the side of the Polish National Home in the historically Polish neighborhood of Greenpoint, Brooklyn, NY. This weekend marked the 71st anniversary of the begining of the Warsaw Uprising on August 1, 1944.

On the hot August afternoon, a large crowd (including many members of a motorcycle gang called "Unknown Bikers") gathered for the ceremony, which was attended by dignitaries, the media, and veterans of the Uprising including Julian Kulski, author of the newest Aquila Polonica release The Color of Courage—A Boy at War: The World War II Diary of Julian Kulski. Mr. Kulski, who traveled from Washington, D.C. for the dedication ceremony, was one of the featured speakers. The other speakers included Polish Consul General Urszula Gacek and N.Y. Congresswoman Carolyn Maloney. Media included local Fox and ABC affiliates, as well as Polish news outlets.

The mural features an image of Mr. Kulski (at its far right), who fought in that Uprising as 15-year-old Commando in the Home Army. Other images included in the mural are the Fighting Mermaid, symbol of the City of Warsaw; Warsaw Uprising veteran Ryszard Kossobudzki, who eventually settled in Brooklyn after the war; and Witold Modelski, who was killed in action during the battle at the age of 12.

Sunday's event was actually a re-dedication of the mural, which was originally unveiled in August 2014, on the 70th anniversary of the Warsaw Uprising, but vandalized a few months later. The mural was repainted in time to be dedicated on this 71st anniversary weekend.
WPIX-TV reported on the event below: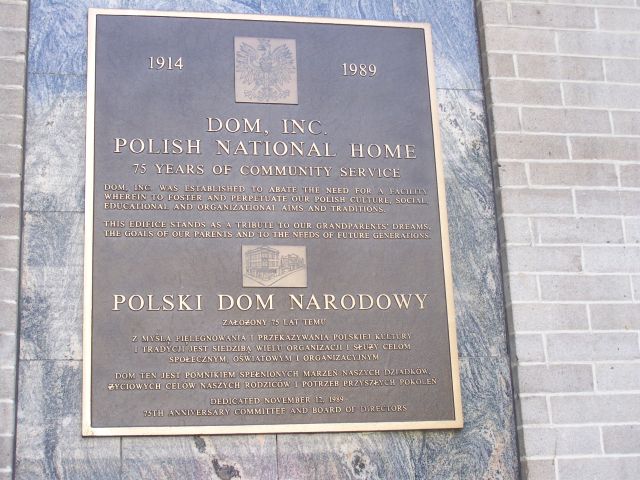 Plaque commemorating 75th anniversary of the Polish National Home, 1914-1989
Poster for the Mural Dedication event, August 2, 2015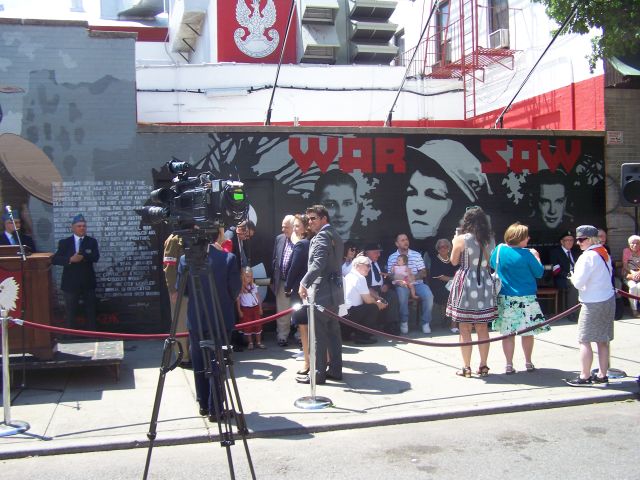 Event being set up, with mural in the background
Media setting up for event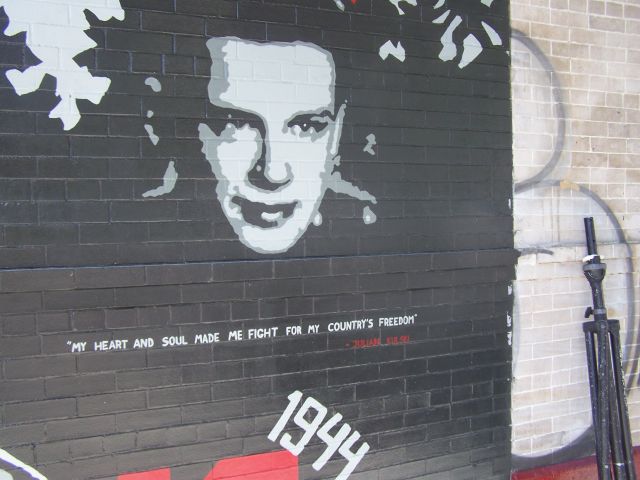 Close-up of the image of author Julian Kulski on the mural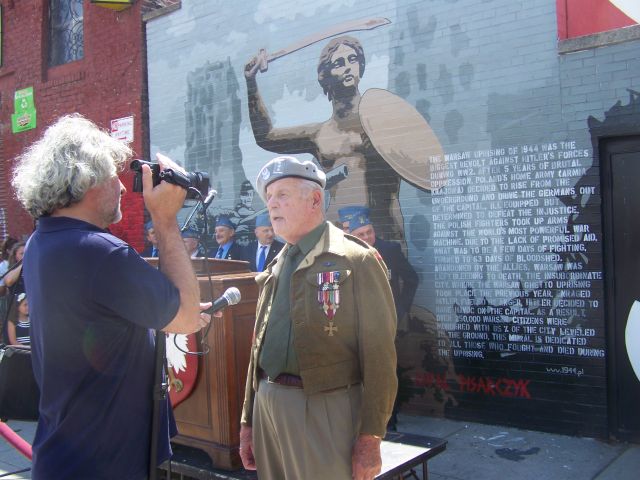 Author Julian Kulski, in uniform, being interviewed.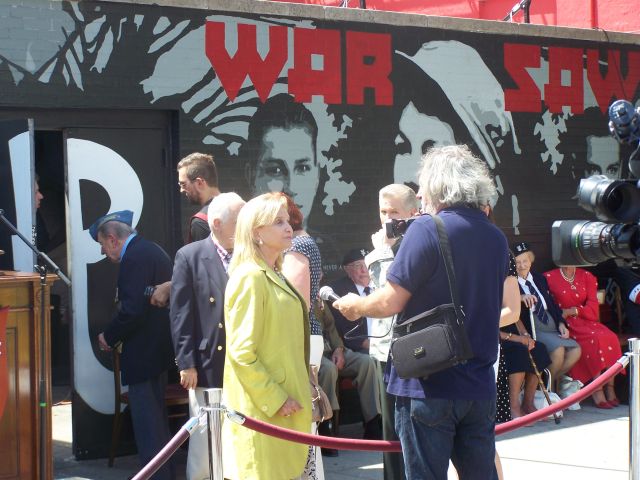 Congresswoman Maloney being interviewed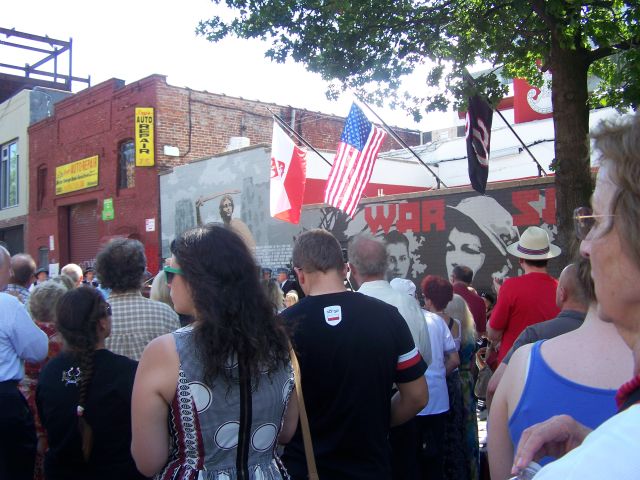 Some of the crowds who gathered for the ceremony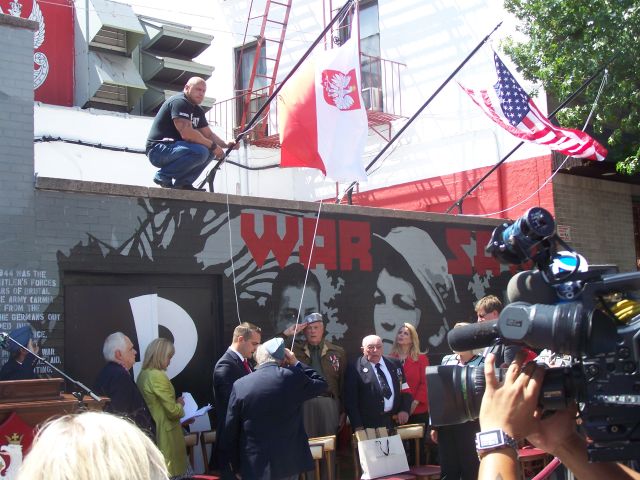 Saluting the American and Polish flags
Introductory remarks by event organizer Greg Fryc, Pangea Magazine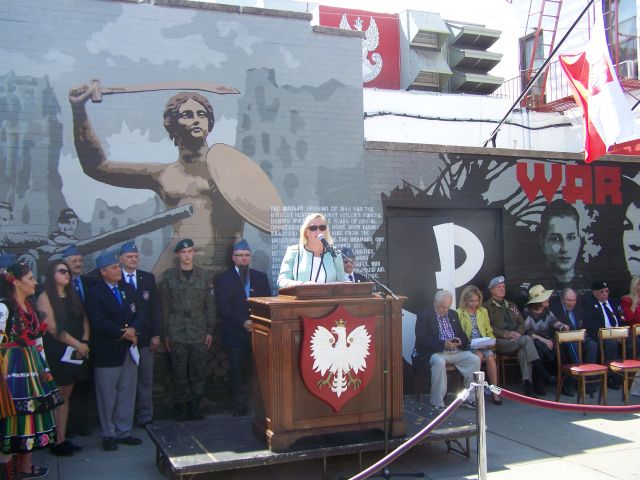 Polish Consul General Urszula Gacek addresses the audience
Journalist and author Rita Cosby speaks as part of the ceremony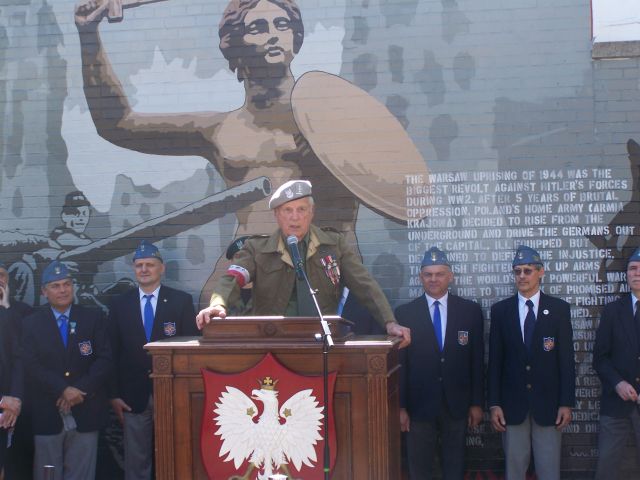 Warsaw Uprising veteran and author Julian Kulski gives an inspirational speech
Aquila Polonica titles featured for sale at the event