THE AQUILA POLONICA PRIZE
2013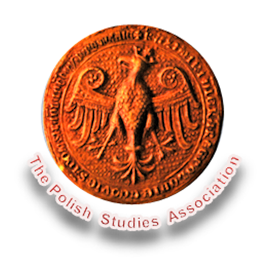 The biennial Aquila Polonica Prize is awarded under the auspices of the Polish Studies Association to the author of the best article written in English during the previous two years on any aspect of Polish studies.
The award carries a $500 honorarium donated by Aquila Polonica Publishing, and is announced during the Polish Studies Association meeting at the National Convention of the Association for Slavic, Eurasian, and East European Studies ("ASEEES").
The 2013 winner was selected from a field of 54 nominees—more than any previous year—by a committee appointed by the Polish Studies Association, with academic representatives from each of the social sciences, literature/culture, and history. Winners were announced on November 22, 2013 at the ASEEES Convention in Boston, Massachusetts. Aquila Polonica president Terry Tegnazian was on hand to present the prize.
2013 Winner
L-R: Aquila Polonica president Terry Tegnazian, Dr. Katherine Lebow, PSA president Prof. Brian Porter-SzucsThe winner of the 2013 Aquila Polonica Prize is Dr. Katherine Lebow, for her article "The Conscience of the Skin: Interwar Autobiography and Social Rights" (Humanity 3:3 [Winter 2012] 297-319.
In her award-winning article, Lebow has recovered an immensely significant yet almost entirely neglected set of sources, viewing them through a complex analytical lens of social rights, and achieving thereby the rare feat of illuminating both the sources themselves and the lens through which they are viewed.
Combining the interpretive skills of historian and textual critic, in her elegantly written article Lebow directs the attention of human rights theorists to the voices of working class Poles in the interwar years and to the meanings inherent in both the collection and the casual neglect of their writings.
By publishing "The Conscience of the Skin" in an interdisciplinary, transnational journal of human rights scholarship, Lebow clearly demonstrates that the study of Polish subjects can be of the broadest interest across the disciplines both within and beyond the spheres of Polish Studies.
Lebow (Ph.D. Columbia) is currently a Research Fellow at the Vienna Wiesenthal Institute. She has taught at the University of Virginia and Newcastle University. Recent publications inlcude "Unfinished Utopia: Nowa Huta, Stalinism, and Polish Society, 1949-56" (Cornell, 2013) and her award-winning article "The Conscience of the Skin." She is writing a book about "everyman autobiographies" in transatlantic space from the Great Depression to the Holocaust.