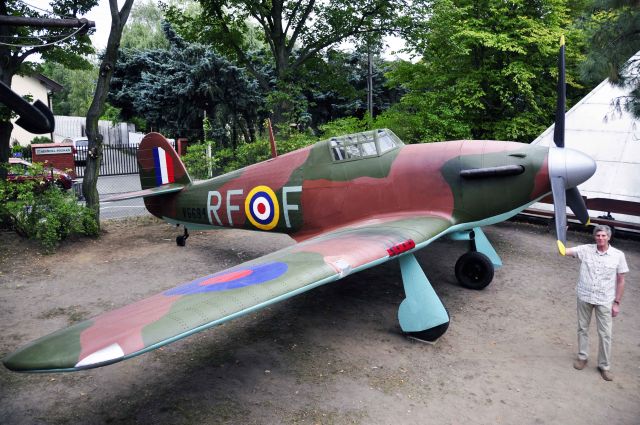 September 19, 2011 - Puszczykowo, Poland - Arkady Fiedler Museum - The Arkady Fiedler Museum's new scale replica of the Hawker Hurricane MK I which was flown by the fighter pilots of the legendary 303 Squadron during the Battle of Britain was unveiled at a moving ceremony at the Museum. The Museum's Hurricane is coded "RF" which was 303 Squadron's code during the Battle of Britain.
Wojtek Matusiak and Robert Gretzyngier, both of Warsaw, acknowledged experts in the history of the Polish Air Force during World War II who advised Aquila Polonica on the preparation of its new English-language enhanced edition of Arkady Fiedler's classic book Dywizjon 303, were among the invited guests to this ceremony. Wojtek gave us a brief report on this event.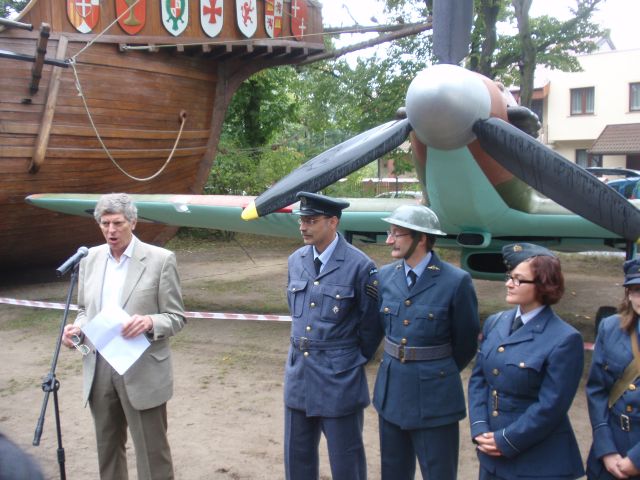 Arkady Fiedler, Jr., backed by members of the WWII RAF reenactment group, joined by Robert Gretzyngier (in uniform, on the left)Arkady Fiedler, Jr., a member of the Polish Parliament, was the featured speaker. A World War II RAF reenactment group established by a Church of England priest living in nearby Poznan, who is a keen modeler and aviation history enthusiast, attended in uniform and were joined by Robert also in uniform, providing an appropriate backdrop to Mr. Fiedler's speech.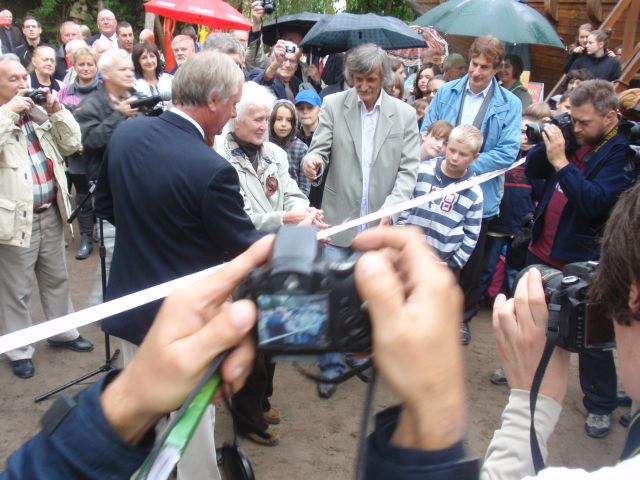 Ms. Gostkowska and Mr. Filary cut the official ribbon to unveil the HurricaneAlso in attendance were Ms. Bozena Gostkowska, the niece of Witold "Tolo" Lokuciewski, who was one of the Polish fighter pilots of 303 Squadron featured in Fiedler's book (and the squadron's last commanding officer), and the British son of Leon Filary, a Polish Hurricane mechanic (though not with 303 Squadron).