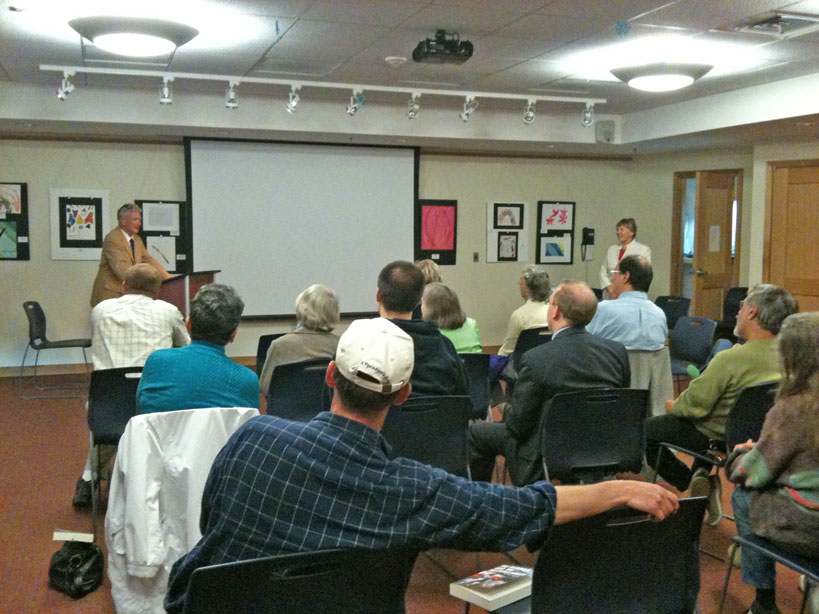 May 11, 2011 – Norwich, CT – George Langer and his wife Ingrid Asmus presented a program at the Otis Library in Norwich about The Mermaid and the Messerschmitt: War Through a Woman's Eyes, 1939-1940, written by George's mother Rulka Langer.
George was 8 years old in the book, and is now age 80. He says that one of his most vivid memories of besieged Warsaw is the constant hunger, which had a lifelong impact on him—to this day he feels a compulsion to eat every morsel on his plate. One day a refugee sheltering with the Langer family during the Siege found an emaciated pigeon with one broken wing—George still remembers his excitement at having a bit of cooked pigeon to eat that night.
The historic newsreel Siege (available in DVD from Aquila Polonica), which complements The Mermaid, was also screened.
Librarian Julie Menders reports: "It was a wonderful evening...George and his wife were captivating speakers. There was a lively Q&A when the program was over, with many of our patrons wanting to have personal discussions with George!"